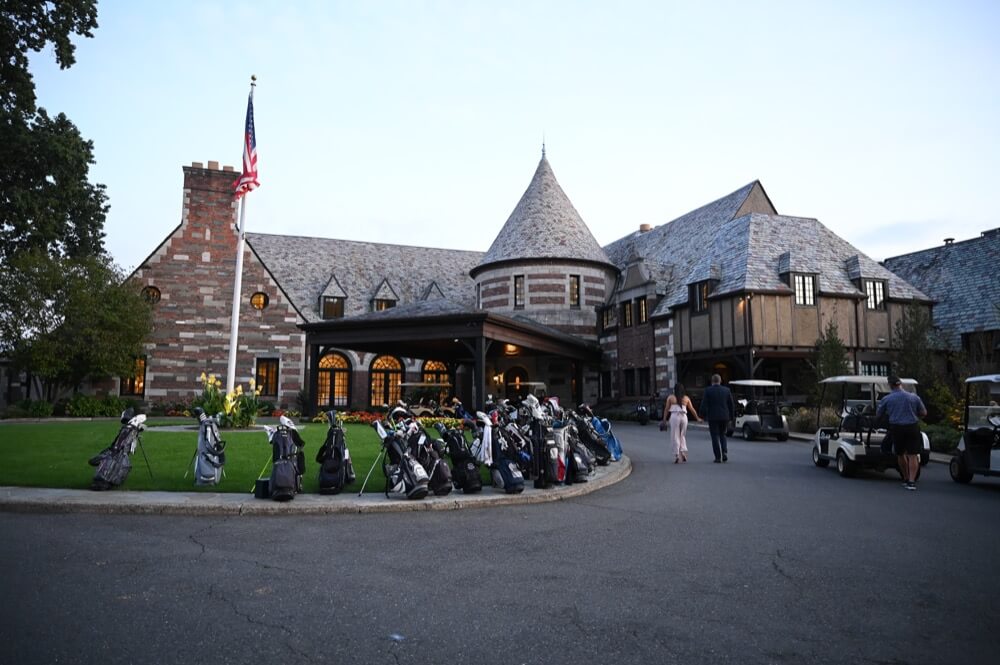 03 May

Town Title Agency Announces Date for 7th Annual Golf Outing
Fundraising event to be held at Ridgewood Country Club on Oct. 3, 2022, presented by the Town Title Foundation
PARAMUS, N.J. – Town Title Agency is pleased to announce that Monday, October 3, 2022 (1:00 p.m. shotgun start) has been reserved for the Seventh Annual Town Title Golf Outing, presented by the Town Title Foundation, at the prestigious Ridgewood Country Club, 96 W. Midland Ave., Paramus, NJ, (201) 599-3900. We are thrilled to return to Ridgewood Country Club, a 27-hole private golf course and clubhouse designed by A.W. Tillinghast and Clifford Wendehack, who are considered among the foremost golf and clubhouse architects of the early 20th century.
Town Title Agency – which is celebrating 20 years in business in 2022 – will be donating all net proceeds for the benefit of three incredible organizations of Hackensack University Medical Center: the Inserra Diabetes Research Fund, Tackle Kids Cancer at the Children's Cancer Institute at the Joseph M. Sanzari Children's Hospital, and the Caryl and Jim Kourgelis Fund for the Center for Behavioral Health & Medicine. Sanzari Children's Hospital has been recognized as exceeding the standards of pediatric healthcare as recognized by the Children's Hospital Association and the State of New Jersey. The hospital has stood as a beacon of hope for children and families dealing with pediatric diseases and afflictions in our community. The Inserra Family Diabetes Institute was established by the Inserra Supermarkets family to improve the lives of people of all ages living with diabetes, both now and in the future. The Kourgelis Fund supports research and treatment programs to advance the understanding of mental illness and to develop safe and effective protocols.
Sponsorship opportunities will be available from $500 to $25,000.
We kick off our seventh annual golf event with a Champions' barbeque lunch at 11:30 a.m. The competition follows with a 1:00 p.m. shotgun start, including course knowledgeable forecaddies to promote player enjoyment of this championship layout. Prizes will be awarded to the Individual Low Net, Longest Drive, and Closest to the Pin winners. The use of state-of-the-art Trackman Golf technology will provide golfers with onsite video and analysis; an email with Trackman evaluation comparing your swing to that of PGA Tour professionals; access to the CoachNow app, an instructional platform that provides you with access to feedback, drills and other tools to improve your game; and verbal swing analysis from a certified PGA teaching professional. The on-course competition is followed by a cocktail hour, featuring hot and cold appetizers and including a premium open bar. A full and impressive buffet dinner with open bar follows, along with our awards ceremony.
---
Town Title Agency is a full-service title insurance agency headquartered in Paramus, N.J. Founded in 2002, Town Title has grown to become a leader in the title search and settlement industry and has developed a reputation that is second to none. Over the past 20 years, Town Title has processed in excess of 23,000 title searches – and is still growing. Town Title Agency is licensed in New Jersey, New York and 13 other states and provides title nationally. It is an agent for Chicago Title Insurance Company, First American Title Insurance Company, and Stewart Title.
The Town Title Foundation is a registered 501(c)(3) nonprofit organization that was established with the goal of assisting the local communities we serve, including but not limited to providing financial support to the local healthcare community, whose stellar reputations are defined by the life-changing work they do, as well as supporting local small businesses, organizations, and educational systems. Learn more at www.TownTitleFoundation.org.