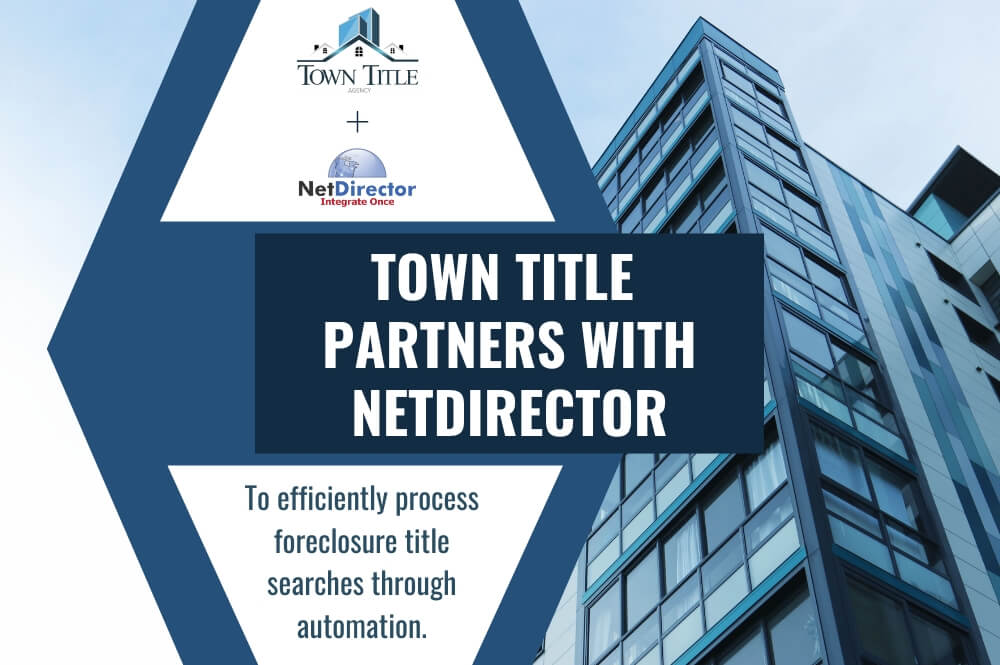 18 Apr

Town Title Agency Partners With NetDirector To Provide Centralized Title Services

Posted at 18:27h

in

Press
Partnership will create a streamlined, automated foreclosure search process
PARAMUS, NJ – Town Title Agency, a New Jersey-based provider of commercial and residential title insurance and settlement services, announced today a new partnership with NetDirector, a leading provider of data exchange and integration services for the mortgage and title industry.
Through this partnership, Town Title will become a vendor on NetDirector's centralized data exchange network for title requests and responses. This will allow Town Title to efficiently and securely manage its interactions with a growing network of industry vendors and foreclosure law firms, streamlining the title search and settlement process for customers across the tri-state area.
With decades of experience handling complex title work for commercial properties, Town Title Agency is uniquely positioned to offer high-quality foreclosure searches to law firms across the tri-state area. While headquartered in Paramus, NJ, the company can provide specialized searches in New Jersey, New York, and Pennsylvania.
About Town Title Agency
Town Title Agency is a leading full-service title insurance agency founded in 2002. They have processed over 25,000 title searches, offer national commercial services for real estate transactions, and have direct licensure in 15 states to provide streamlined services to clients nationwide. They are agents for Chicago Title Insurance Company, First American Title Insurance Company, and Stewart Title Insurance.
About NetDirector
NetDirector provides a centralized data exchange for a growing network of vendors, attorneys, and mortgage lenders. By leveraging a cloud-based platform and deep industry expertise, NetDirector simplifies and streamlines data exchange, enabling partners to focus on their core businesses and achieve greater efficiency and automation.
Working Together
Town Title Agency will be able to utilize NetDirector's platform to efficiently process foreclosure title searches through automation.
###