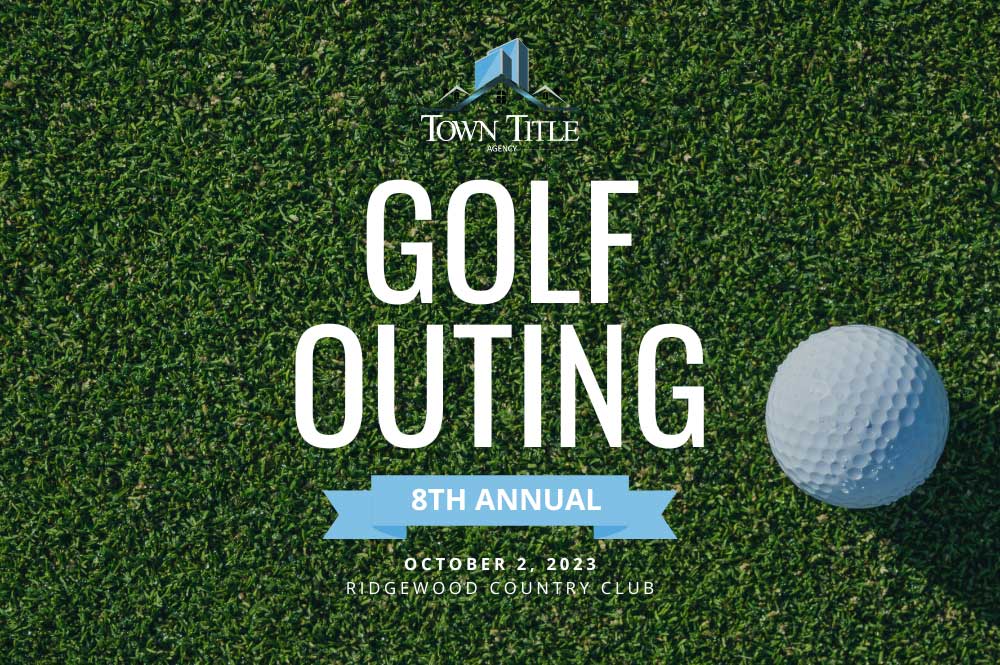 25 Aug

TOWN TITLE AGENCY ANNOUNCES DATE FOR 8th ANNUAL GOLF OUTING

Posted at 15:21h

in

Press
Fundraising event to be held at Ridgewood Country Club on Oct. 2, 2023,
presented by the Town Title Foundation
PARAMUS, N.J. – Town Title Agency is excited to announce that the 8th Annual Town Title Golf Outing, presented by the Town Title Foundation, will take place on Monday, October 2, 2023. The highly anticipated event will be hosted at the prestigious Ridgewood Country Club, located at 96 W. Midland Ave., Paramus, NJ, (201) 599-3900. Renowned for its exceptional 27-hole private golf course and clubhouse designed by A.W. Tillinghast and Clifford Wendehack, Ridgewood Country Club provides the perfect setting for a memorable day of golf.
With over 20 years in business, Town Title Agency is committed to making a positive impact in the community. As part of our philanthropic efforts, all net proceeds from the golf outing will be donated to three remarkable organizations at Hackensack University Medical Center. The supported programs include the Inserra Diabetes Research Fund, Tackle Kids Cancer at the Children's Cancer Institute at the Joseph M. Sanzari Children's Hospital, and the Caryl and Jim Kourgelis Fund for the Center for Behavioral Health & Medicine. These organizations are dedicated to advancing research, treatment, and care for diabetes, pediatric cancer, and mental health, respectively. 
We are pleased to offer a range of sponsorship opportunities for this event. Sponsors will have the chance to showcase their support for these vital causes while enjoying the benefits of visibility and recognition among participants and attendees.
Town Title Agency invites golf enthusiasts, philanthropists, and community members to join us for a day of exceptional golf and charitable giving at the 8th Annual Town Title Golf Outing. Together, we can make a meaningful difference in the lives of those in need.
Town Title Agency is a full-service title insurance agency headquartered in Paramus, NJ. Founded in 2002, Town Title has grown to become a leader in the title search and settlement industry both locally and nationally – and has developed a reputation that is second to none. Over the past 20 years, Town Title has processed over 25,000 title searches – and is still growing. Town Title Agency is licensed in New Jersey and New York, along with 15 other states. It is an agent for Chicago Title, First American Title Insurance Company, and Stewart Title Guaranty Company.
The Town Title Foundation is a registered 501(c)(3) nonprofit organization that was established with the goal of assisting the local communities we serve, including but not limited to providing financial support to the local healthcare community, whose stellar reputations are defined by the life-changing work they do, as well as supporting local small businesses, organizations, and educational systems. Learn more at www.TownTitleFoundation.org.
###