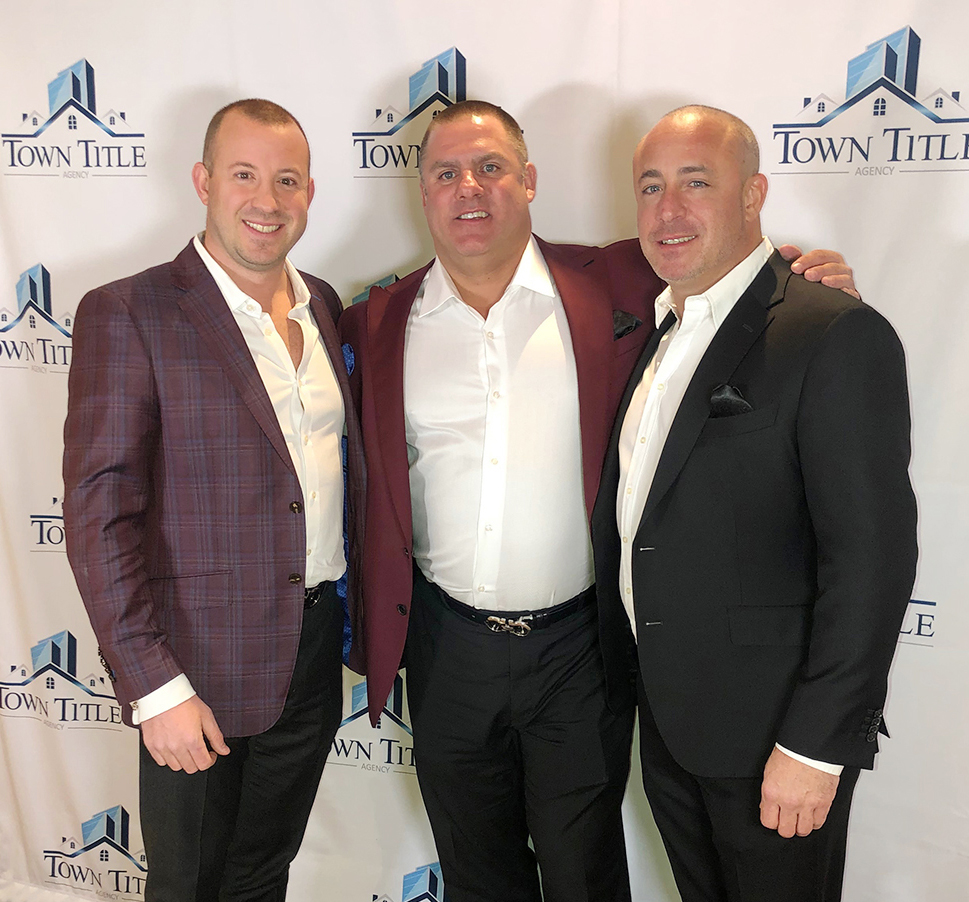 30 Dec

Thanks for a great year!

As we prepare to bid farewell to 2019 and usher in a new year and a new decade, we'd like to take a moment to reflect on another great year and, of course, to thank you for your continued loyalty and patronage. We are humbled by the support of our clients, employees and friends at Town Title Agency.

Over this past year, we truly raised the bar for ourselves as a company. We insured some of our most impressive transactions to date, and our #TownTitleGivesBack initiative raised more money than ever before. In 2019, we insured the closing of a $105.9mm construction loan and development deal on an industrial property located on Route 27 in Franklin, New Jersey, on which a new, 926,400-square-foot warehouse will ultimately be built; insured the $90mm refinance of a 31-property commercial portfolio spanning 14 states, which we had previously insured the purchase of in 2016; widened our geographical footprint by insuring the $47.9mm purchase and $61.8mm loan on a FedEx Freight property located in Louisville, Kentucky; and most recently navigated a highly complex workout deal involving the transfer of leases on approximately 40 A.C. Moore stores and the purchase of a $31mm East Coast distribution facility in Berlin, New Jersey, by The Michaels Companies Inc. – just to name a few. At our Fourth Annual Town Title Golf Out-ing in September, we raised a record-breaking $100,000, with all of the proceeds going to two incredible organizations: the Inserra Diabetes Foundation and Tackle Kids Cancer, an initiative of the Children's Cancer Institute at Hackensack University Medical Center.

We were also recognized multiple times in 2019 by our colleagues. In January, for the second consecutive year, we were named a Top Agent by First American Title Insurance Company. Out of a pool of 250, Town Title ranked 3rd in transactions insured with First American as its underwriter in 2018. Additionally, Fidelity National Title Group recognized Town Title Agency as one of its Top Producing Agents for 2018, putting us at No. 25 among a list of 275 agencies in total amount of premiums generated with Fidelity National Title Group as its underwriter. We expect to continue this growth in 2020.

Within our offices, we made several new upgrades to our IT and other technology plat-forms in order to ensure that we are meeting today's ever-evolving industry demands. Our employees also continue to seek out additional education and training on the latest industry changes and information, especially with regard to cyber crimes, wire fraud and other industry trends.

Out in the community, we were proud to support several deserving organizations over the course of the year. We sponsored or otherwise lent our support to:
The Caryl and Jim Kourgelis Center for Integrative Behavioral Health and Sub-stance Abuse at Hackensack Meridian Health for the creation of their Retreat at Ramapo Valley.
The Bergen County Food & Wine Festival, in support of the The 200 Club of Bergen County, whose mission is to enrich our community by supporting the families of law enforcement, fire and EMS personnel in the event of their death or injury.
A partnership between Saint Joseph Regional High School and Tackle Kids Cancer, with all money raised from St. Joe's Gold Rush t-shirt sales going to support pedi-atric cancer research via TKC at the Children's Cancer Institute at Hackensack University Medical Center.
We were also proud to sponsor Brian Mackey, Head Golf Professional at Hollow Brook Golf Club, in his pursuit of a PGA championship at Bethpage Black. Brian made it through the first two rounds of competition, ultimately finishing seven over par (147) and posting better scores than several major champions in the field.
As we look ahead to 2020 and beyond, we are poised and ready for another incredible year at Town Title Agency. Be sure to check out our website, as well as our Facebook, Twitter and – new in 2019 – Instagram pages, for regular updates on featured deals, notable transactions and other noteworthy highlights.
Thank you, as always, for allowing us to continue to serve you. Best wishes for a happy, healthy and prosperous new year!